Toronto swimming beach report card: Analyzing 10 years of water quality data
Which of the city's swimming beaches test safe most often? We dug into the data to find out.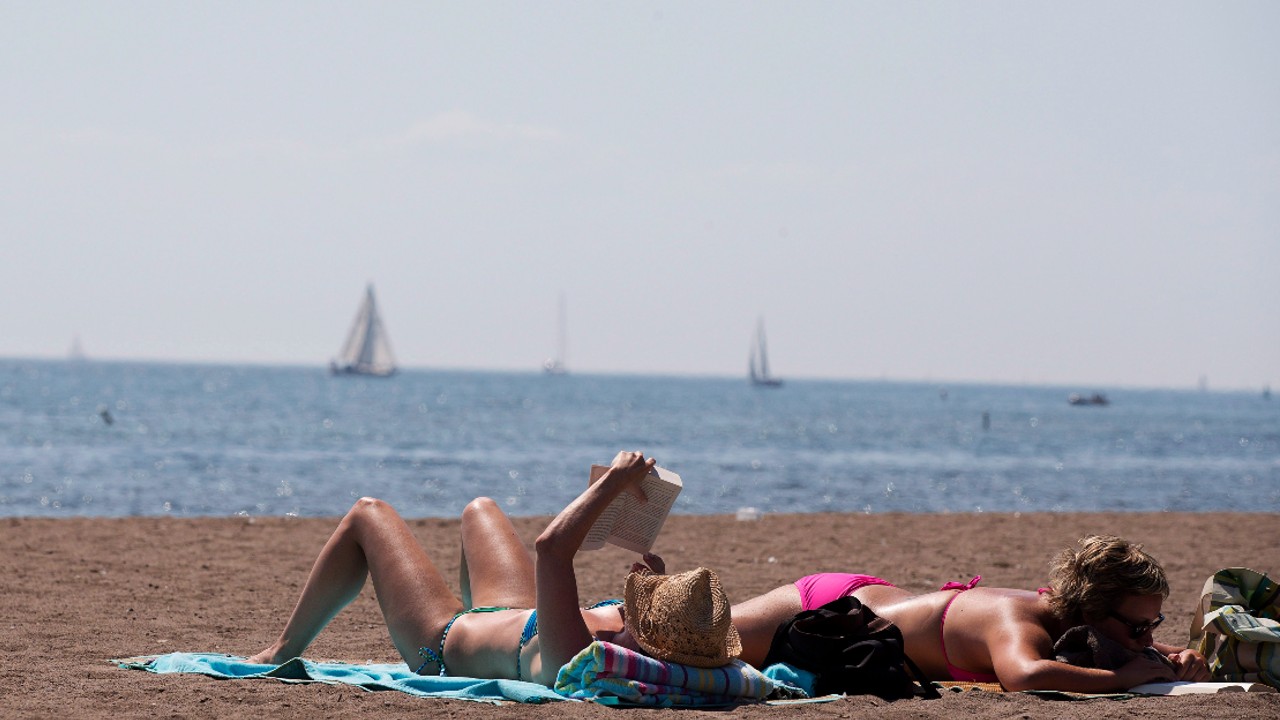 Swimming? In the city? To many, it's a foreign concept — which is a shame.
During swimming season, Toronto maintains 10 supervised beaches that "meet high standards for water quality, environmental management, environmental education, and safety."
The beaches are spread out along the shore of Lake Ontario and across the Toronto Islands. From Sat., June 3, through Labour Day each is staffed with lifeguards.
As a general rule, it's best to avoid swimming in lakes for 48 hours after heavy rainfall due to potentially elevated amounts of bacteria in the water.
Conditions will also vary depending on the day and location, so Toronto Public Health (TPH) conducts daily tests for E.coli bacteria at each of the city's swimming beaches. Staff check to see whether levels are within the standard of 100 E.coli per 100 mL of water, then make the results available through open data. (Note: This is more rigorous than the provincial and federal standard of 200 E.coli per 100 mL.)
The warning system is pretty straightforward: Under 100 E.coli gets a "safe" declaration. Over gets an "unsafe." A sudden storm that takes place after a reading could also get a beach labeled unsafe for the day.
When E.coli levels are unsafe, TPH posts warning signs against swimming.
But how often do beaches test in the safe range, and which do most often? We looked back at the data from previous years to find out. Read on or check the map accompanying this article for the results of our search.
How often are Toronto's beaches safe for swimming?
As it turns out, extremely often.
Eight of Toronto's 10 swimming beaches have earned a Blue Flag designation — indicating that a beach is accessible, managed sustainably, and has high-quality services and safety procedures — and it's clear from the data why that is.
Here's a look back at the past 10 years by percentage of days each beach was in the safe range for E.coli bacteria:
Toronto's Blue Flag beaches make up the top eight of this chart, and each tested safe on 90 per cent of days or more since 2013.
Cherry Beach — at the foot of Cherry St. in the evolving Port Lands — is officially Toronto's most bankable beach, testing safe 96.2 per cent of the time.
Gibraltar Point Beach on the west side of Toronto Island comes in second in this regard, with a 95.2 score, just ahead of third-place Woodbine Beaches at 94.9.
The two non-Blue Flag beaches in the mix still tested safe more often than not, but lag behind the pack a bit. Sunnyside Beach south of High Park had the lowest score, testing safe 63.6 per cent of the time. Next lowest is Marie Curtis Park Beach East — located where Etobicoke Creek meets Lake Ontario — at 66.8.
What did the picture look like for 2022?
Similar, but not exact. Here's a chart showing percentage of days each beach tested in the safe range in 2022:
Well, it was a rough year for Sunnyside. The west-side spot tested inside the standard E.coli range just 45 per cent of the time.
So that's the bad news. But the good news is particularly good.
Cherry Beach reigns supreme. It performed even beyond its lofty 10-year average, testing safe on 99 per cent of days. Three other beaches hit 98 per cent: Gibraltar Point, Woodbine, and Hanlan's Point Beach.
Marie Curtis also tested in the range of the Blue Flag beaches, with an 83 per cent safe-range rate.
For another angle, here's the average E.coli rating for each beach for the summer of 2022:
Again, not a great year for Sunnyside. But every other beach has an average well below the safe standard.
Yet another way to look at this? Here's a look at the number of days each beach tested over the standard:
Not every beach was tested the exact same amount of times, but this gives you a good idea of the big picture.
Out of the entire season last summer — Sat., June 4, through Labour Day — Cherry Beach tested over the standard limit for E.coli just once. Six other beaches tested over five or fewer times.
This puts into perspective just what a reliable recreational resource Toronto's beaches are, and why an even greater number of people should consider them over a beach outside the city for a swim on a hot summer day.
Code and markup by Kyle Duncan. ©Torontoverse, 2023