10 free things to do in Toronto this weekend
From talks to walks to street fests, there's a ton to do on the cheap this weekend.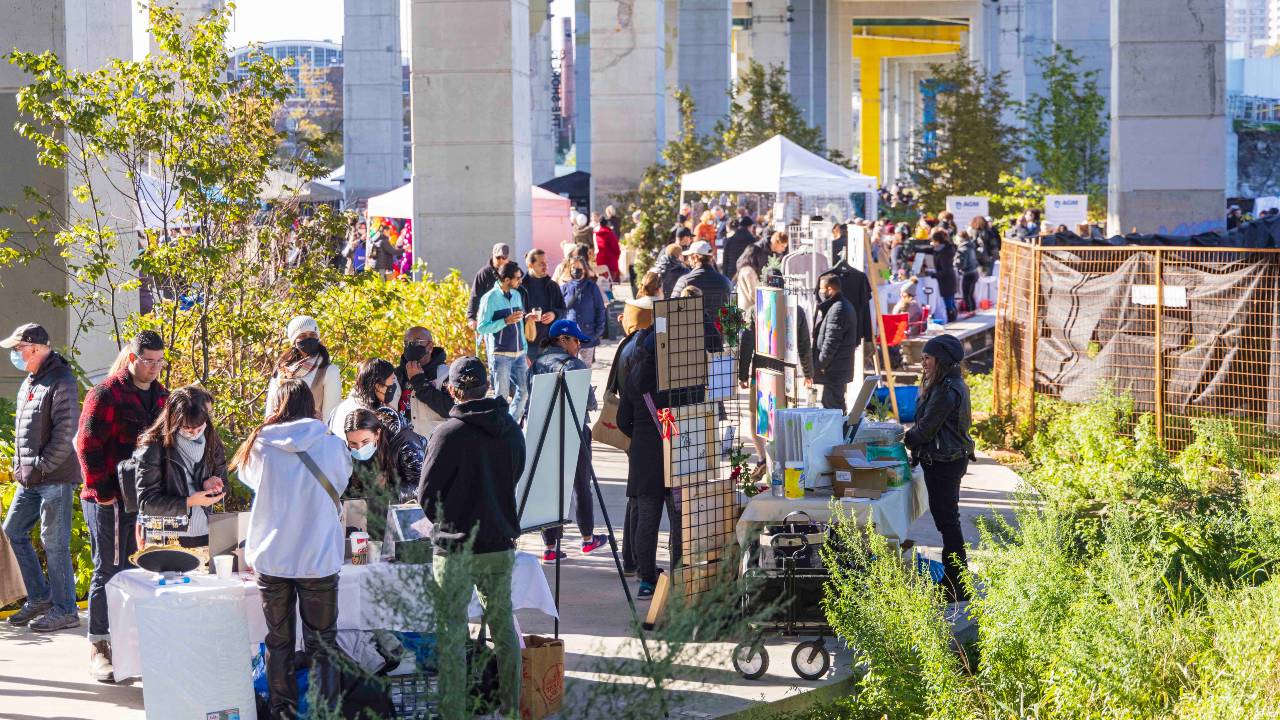 The weekend approaches, and with it comes many a reason to get outside and enjoy the city.
To help you fill out your schedule on the cheap, we dove deep into the City of Toronto Festivals & Events calendar. Here's a list of 10 free things to do between Friday and Sunday, for all sorts of ages and interests.
Join us on Friday, June 9th for a U Of T Talks event. Dig In - Our Health On A Platter. pic.twitter.com/cumrjOkTsk

— Innis Town Hall (@innistownhall) June 1, 2023

Dig In: Our Health on a Platter
Location: Innis Town Hall Theatre, 21 Sussex Ave.
Date(s): Fri., June 9
Organizer description: "On behalf of the UofT Talks team at the Institute of Medical Science, you are invited to the Innis Town Hall for an engaging symposium on Food Science! Hear from four experts on personalized nutrition, the social/environmental impacts of food choices, and more. Attendees can interact with speakers, participate in workshops, and enjoy dinner. Open to all in Toronto or virtually on Zoom. Don't miss out on this incredible opportunity to connect with leading experts and gain insights that will shape the way we think about nutrition and health!"
Click here for more info.

Do West Fest 2023
Location: Dundas St. W., from Ossington St. to Lansdowne Ave.
Date(s): Fri., June 9–Sun., June 11
Organizer description: "Now in its 10th year, Do West Fest (formerly Dundas West Fest) is a free annual celebration of music, arts and community covering 12 blocks along Dundas Street West from Ossington Street to Lansdowne Avenue. Positioned as a kick-off to summer in Toronto, in past years, the festival has become a tourist event of notable significance on Toronto's cultural events calendar, drawing over 500,000 people, some from as far away as Portugal and Brazil.
"The 10th Anniversary will bring a heightened awareness of the Little Portugal Toronto area. Portugal Day 2023, June 10, 2023 will feature the spectacular Portugal Day Parade, where we will be honoured with visits from overseas dignitaries and local celebrities as part of the celebrations. Join us!"
Click here for more info.

Village Day & Sidewalk Sale
Location: Yonge St., from Lawrence Ave. to Yonge Blvd.
Date(s): Sat., June 10
Organizer description: "Everyone is welcome to this free, fun, annual event to showcase local businesses and services. Highlights include: a village-long sidewalk sale; free activities for the kids including bouncy castles, face painting, caricatures, balloons, popcorn, and cotton candy; and live bands (something for everybody)."
Click here for more info.

Liberty Village Art Crawl
Location: The Bentway Skate Trail, 250 Fort York Blvd.
Date(s): Sat., June 10
Organizer description: "For the 10th year in a row, 120+ artists are taking over The Bentway for a day of art, design, live music, interactive demos, delicious food and more! Join us to peruse and shop unique, one-of-a-kind products directly from the hands of artists!
"If you are looking for art, photography, sculptures, jewellery, fashion, home decor, skin care and more one of a kind items, you won't want to miss this one day market. Our event also features food vendors and DJ Kid Artik! So bring your dancing shoes, you'll be dancing while shopping. The perfect way to kick off your summer! This event is free to everyone, and welcomes leashed pets!"
Click here for more info.

OCD Walk 2023
Location: Sunnybrook Park, 2075 Bayview Ave.
Date(s): Sat., June 10
Organizer description: "Take a few small steps for a big cause in support of the Frederick W. Thompson Anxiety Disorders Centre. The Frederick W. Thompson Anxiety Disorders Centre offers specific expertise in the treatment of obsessive-compulsive disorder (OCD) and related 'spectrum' disorders, including hoarding, hair pulling (trichotillomania), skin picking and body dysmorphic disorders for anyone over the age of 18. Our specialized services are available to meet the needs of people with severely impairing OCD. Our residential program is open to clients from across Canada and the United States.
"Start/Finish Line: The Coach House, Sunnybrook Health Sciences Centre. Walk Route: Sunnybrook Park (approximately 5km)."
Click here for more info.

Lakeshore Village Grilled Cheese Challenge Festival
Location: Lake Shore Blvd. W. and Islington Ave.
Date(s): Sat., June 10
Organizer description: "Come taste the best grilled cheese in Toronto and vote for your favourites! Our Challengers will be offering up their take on 'The Best Grilled Cheese' and competing for The Judges Prize as well as the People's Choice Awards.
"Come for the grilled cheese and vote for your favourites in three different categories: Best Tasting, Most Unique and Best Gourmet. Stay for the live music, entertainment, amazing food, specialty drinks, shopping and more!
Click here for more info.

Pinoy Fiesta & Trade Show sa Toronto
Location: Albert Campbell Square, 50 Borough Dr.
Date(s): Sat., June 10
Organizer description: "All-day entertainment featuring some of the best local artists, delicious food games/kids zone, fashion show, Santacruzan Parade, multicultural performances, trade show plus much more! The event will feature the unfurling of a giant Philippine flag to celebrate Filipino Heritage Month. Everyone is welcome to attend! See you there!"
Click here for more info.

Raymore Park Tree Planting
Location: Raymore Park, 89 Tilden Cres.
Date(s): Sat., June 10
Organizer description: "Commemorate the lives lost to Hurricane Hazel and enhance the natural habitat. This event will feature a short talk by historian Madeleine McDowell and a ceremonial tree planting with Vivian Recollet, an Anishinaabe Grandmother Waterkeeper.
"Meet south of Raymore Bridge, on the east side of the Humber River Recreational Trail. Event site conditions vary. Contact us for more information on accessibility. If you would like to request accessibility support or accommodation, contact us as soon as possible."
Click here for more info.

World Wide Knit in Public Day at Gibson House Museum
Location: Gibson House Museum, 5172 Yonge St.
Date(s): Saturday, June 10
Organizer description: "June 10 is international World Wide Knit in Public Day. Around the world knitters will be gathering to celebrate their craft in public settings. Bring your own knitting or crochet work in progress and take a knitting break. If you are new to this ancient craft you can borrow some needles and yarn and give it a go!
"Meet on the lawn in the knitting tent or make yourself comfortable in the restored historic house. Look around the museum at your own pace and see what we are are weaving on our loom."
Click here for more info.

QUEER TAMIL COLLECTIVE PRIDE: ஊர் (Oor)
Location: Scarborough Museum, 1007 Brimley Rd.
Date(s): Sun., June 11
Organizer description: "The Queer Tamil Collective's ஊர் (Oor) Exhibition, hosted at the Scarborough Museum, explores the question of belonging when faced with the fractures of displacement through war, colonialism, caste violence, and queerphobia.
"Through a carefully curated selection of sculptures, textiles, paintings, portraits and videos, 12 Queer Tamil artists from across the globe remember and revisit their complex histories while reimagining new possibilities of resistance in the face of growing bigotry and intolerance, in the hopes of carving out a new place of belonging that transcends binaries, borders, space and time."
Click here for more info.
Code and markup by Chris Dinn. ©Torontoverse, 2023