Six Toronto breweries to visit as the weather heats up
A timely guide for those looking to enjoy refreshing craft beer on a patio.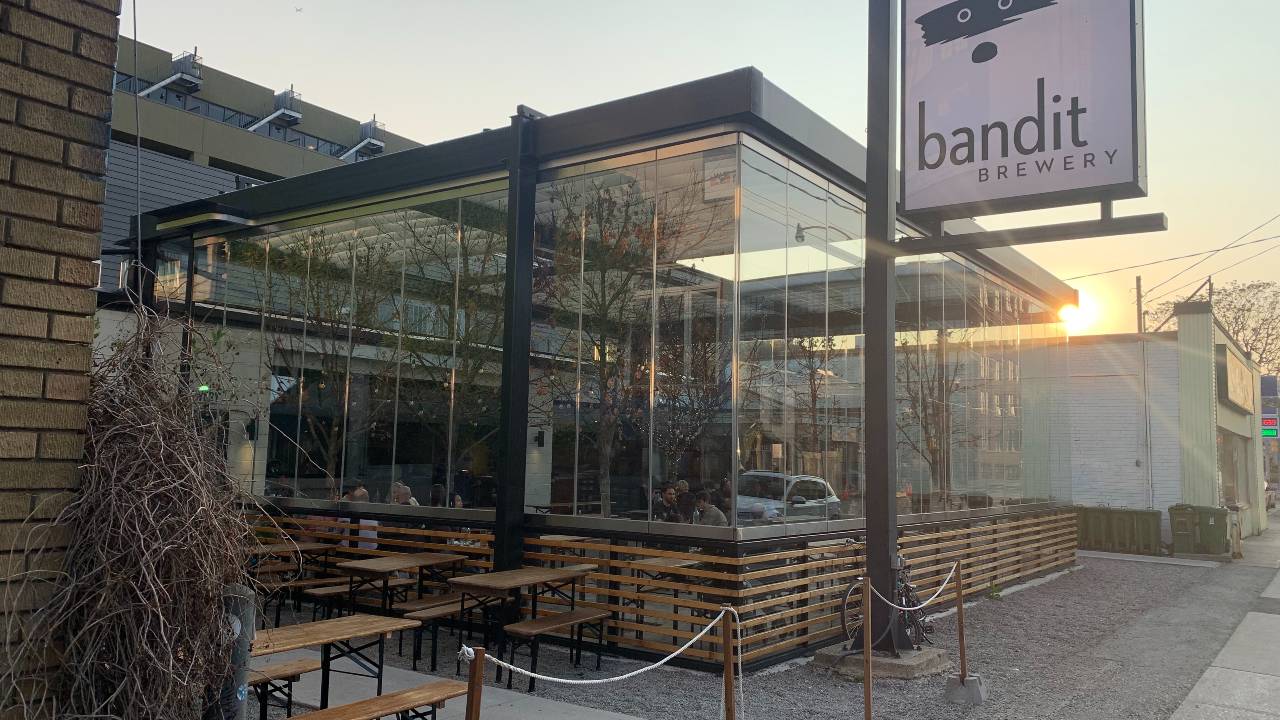 As a general rule of thumb, Torontonians don't need to be told when it's patio season.
The moment the weather turns even remotely hospitable, outdoor spaces around the city become packed to the gills with folks enjoying drinks in the sun.
While there's no wrong way to hit the patios, you can take that experience to the next level by pairing the clear skies and warmth with the right refreshing beer.
Toronto's craft beer scene has you covered on that front, and many of the city's craft breweries are the perfect setting for the times you choose to make the word "patio" into a verb.
That's why we've put together this list of Toronto breweries that have the right combination of patio spaces and sessionable beers. Each serves up lagers and pilsners that are refreshing without sacrificing substance.
Saulter Street Brewery
Address: 31 Saulter St. #1
Saulter Street is one of the hidden gems of Toronto's brewery scene.
It's tucked away just south of Queen St. E. with a row of residences on its western flank, train tracks to the east, and the Saulter Street Parkette to the south.
The brewery has a patio out the back with barrels serving as high-top tables for those looking to soak up the sun. For those who prefer the shade, there's another patio along the side adorned with plenty of synthetic greenery.
While the beer list isn't particularly long, it features plenty of different styles, and you won't find a dud in the bunch. There also might not be another brewery in the city where you could accidentally walk in on a multi-hour sea shanty sing along — so proceed at your own risk.
Patio beer pick: Riverside Copper Pilsner
Bandit Brewery
Address: 2125 Dundas St. W
First opened in 2016, Bandit used to have a large, straightforward patio in front of the brewery that consisted of picnic tables on a gravel base with a few trees and string lights.
It was a popular setup, but the brewery's owners weren't afraid to tinker. Eventually, a 2022 renovation enclosed the entire area in glass and added heated flooring to give the patio year-round utility.
That makes it a good option even when the weather isn't cooperating, but the retractability of the glass means you aren't losing anything on a beautiful day, either.
This brewery is best known for its sours and IPAs, but if you're looking for something a little less challenging on a hot day they've got you covered for that as well.
Patio beer pick: Hoppelganger Dry-Hopped Pilsner
Beaches Brewing Company
Address: 1953 Queen St. E.
Beaches Brewing has a relatively small sidewalk patio and a beer list that won't dazzle you with its length.
If you can forgive those sins, the beers you'll find here won't disappoint — and they tend to be thematically appropriate for a brewery by the beach.
Put another way: This might not be the best spot to find yourself a hearty stout, but everything you'll encounter will be refreshing on a hot day.
When the weather gets hot, there's no better place in the city to be than The Beaches, and this patio lets you sit in the middle of it and soak in the atmosphere.
Patio beer pick: Beach Bound Lager
High Park Brewery
Address: 839 Runnymede Rd.
If you make the trip to this west-end staple just north of St. Clair Ave, you get to enjoy the labour of two breweries on one patio as High Park Brewery and Lost Craft Brewery share the same space.
That means you have access to a dizzying array of beers from High Park's more conventional offerings to a Lost Craft catalogue that includes more off-kilter choices like a wildberry wheat beer or a cucumber and mint radler.
Whatever your tastes are, you're likely to find something you like, and you get to enjoy it on a wraparound patio.
Although the patio is set between the brewery and a parking area, you look directly across at a row of houses on Runnymede while you enjoy your beer — giving the spot a neighbourhood brewery feel despite its proximity to some major streets.
Patio beer pick: Against the Grain Golden (Helles) Lager
Muddy York Brewing Co.
Address: 22 Cranfield Rd.
Muddy York is as laid-back and family-friendly as breweries get, and it features a standard gravel patio adorned with picnic tables and string lights.
It's not a raucous spot — and its location won't provide you with stunning views — but if you skip Muddy York you're missing out on some outstanding beer.
The compact list includes three lagers, a pilsner, and a hefeweizen that should easily carry you through a sunny day.
Muddy York hosts a variety of events ranging from comedy shows to trivia, and it has various pop-up food options on Saturdays.
Patio beer pick: Una Más Mexican-Style Lager
Henderson Brewing
Address: 128A Sterling Rd.
Although Henderson's patio is a roped-off area in a parking lot behind the brewery, it has a good deal more charm than that description implies.
The brewery is set far enough away from a major street to create a quiet, relaxed environment, where the sound of trains rolling by on its western edge is more prominent than the noise of traffic — and patrons can come on in from the West Toronto Railpath.
And from a beer standpoint, this establishment covers all the bases. Henderson serves up trustworthy staples you can find all year around with an emphasis on refreshing lagers and ales, but also gets eclectic with a rotating collection of seasonal experiments.
Patio beer pick: Food Truck Lagered Blonde
Code and markup by Kyle Duncan. ©Torontoverse, 2023