Toronto's tragic tale of trash: Why the city's litter bins are often overflowing — or missing
City council doesn't even like Toronto's trash bins. But will they stick around anyway?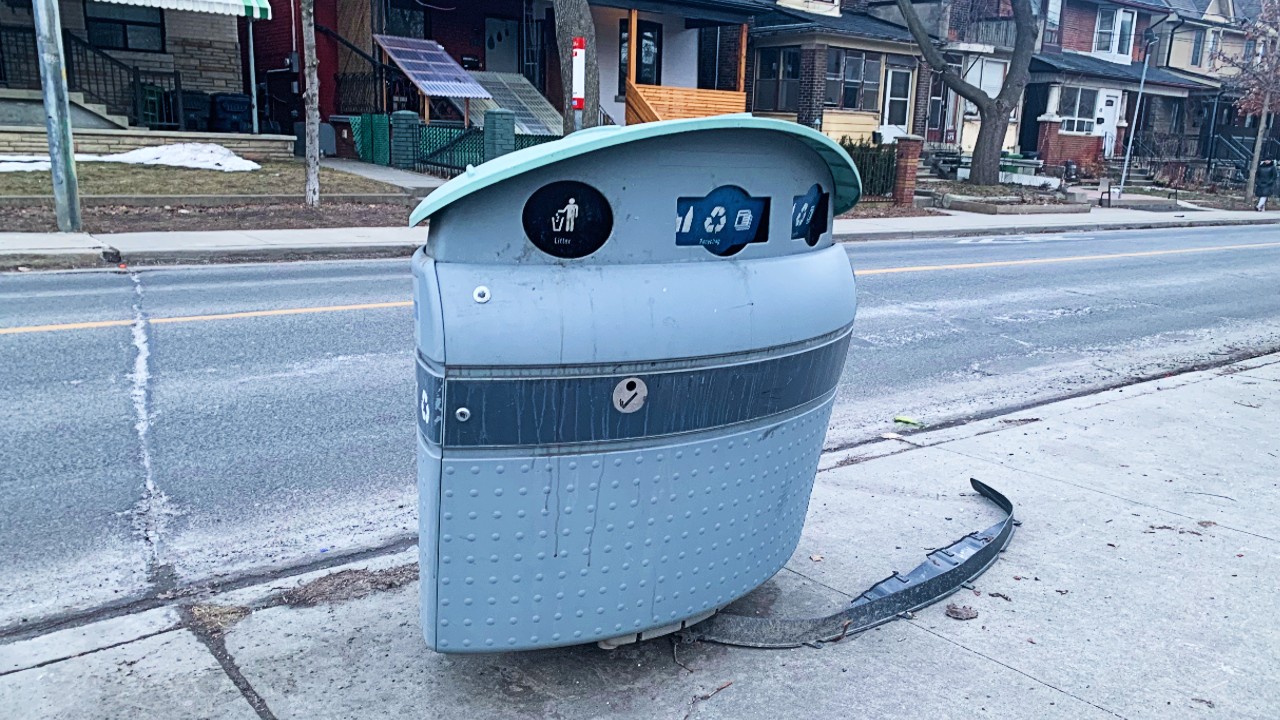 Here's a scenario that might feel familiar: You're walking in Toronto with an empty cup of coffee. You're looking for a place to put your garbage. But the first on-street litter bin you come across looks — and smells — like a biohazard.
The thing is just jam-packed. The doors on the front of the bin are probably broken, too, flapping languidly in the breeze.
If it's an older model — one of the grey plastic variety pictured at the top of this story — there's almost certainly garbage jammed into the flaps that cover the holes for garbage and recycling. Bags of dog poop and other nastiness may sit on top, as passers-by just give up on using the bin as designed.
Complaint data from the city's 311 service suggests this isn't an uncommon experience at all. Between 2019 and 2022, the city received 9,857 reports of overflowing bins or bins that hadn't been emptied as expected.
And, while there was a bit of a reduction in complaints during the pandemic, the long-term trendline is bad. On an annual basis, the number of complaints to 311 coded "Litter / Bin / Overflow or Not Picked Up" has increased by more than four times over the last decade, from 573 in 2012 to 2,350 last year.
Local politicians have taken notice of the fact that no one seems to like Toronto's litter bins. At a Toronto city council meeting held last May, city councillors expressed their general discontent with the state of the bins after Coun. Mike Colle brought forward a motion asking for a report on their "bad condition."
During the brief discussion, former mayor John Tory even admitted that he sometimes carried litter home in his pocket rather than risk interacting with dirty and overflowing bins.
On the broken garbage bin item, Mayor John Tory moves to get Astral to expedite the installation of replacement bins, and to make sure bins are emptied in a timely manner. Tory agrees that the general state of the trash bins has deteriorated lately, and it reflects badly on city. pic.twitter.com/S1CRDk5Ny3

— Matt Elliott (@GraphicMatt) May 11, 2022
Even the then-mayor wouldn't defend the city's litter bins. How did things get so bad?
The deal with Toronto's litter bins
Toronto's on-street litter bins arrived with a wave of enthusiasm at city hall. In the years after amalgamation, the city had been left with a patchwork of contracts for street furniture that applied in some areas, but not others.
Most of the city's bins at the time were provided by Olifas Marketing Group — better known as OMG — a company that ran into trouble due to allegations of mob ties and an abandoned purchase by TorStar, owners of the Toronto Star.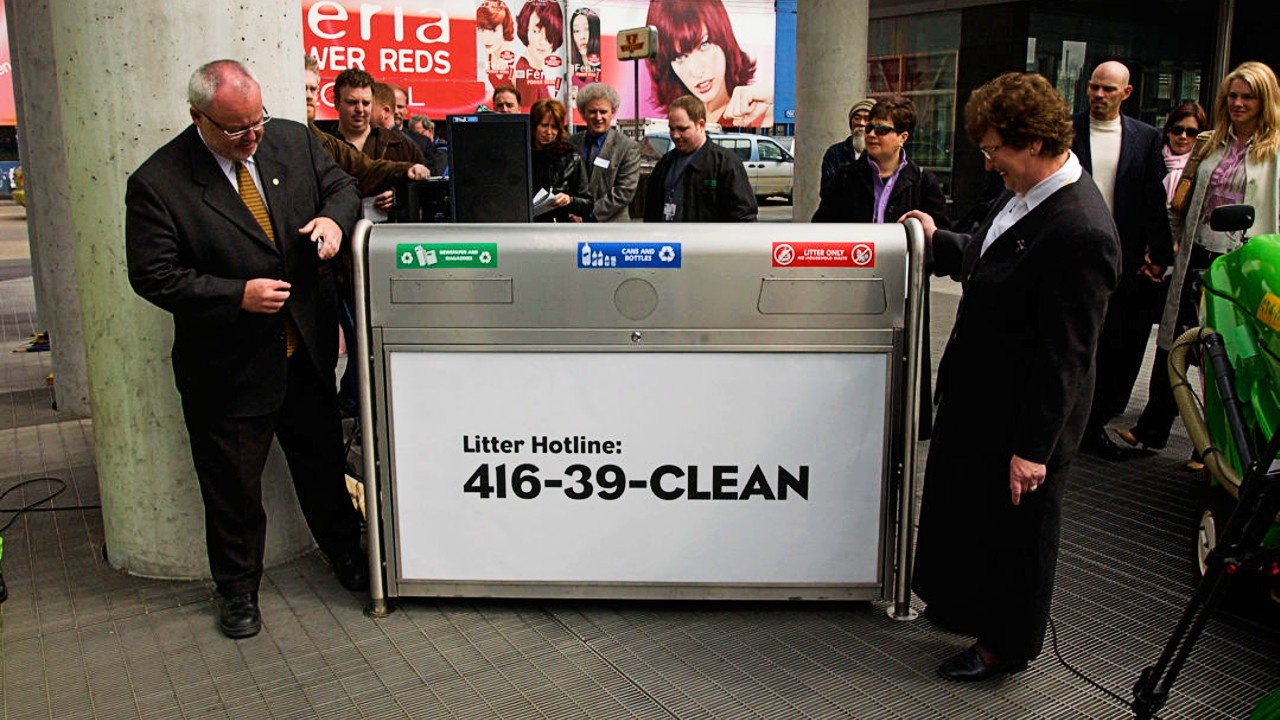 In 2007, city council tried to put all that behind them, overwhelmingly approving what at the time was hailed as an innovative, cost-saving deal with Astral Media. In return for letting Astral sell advertising on transit shelters and information pillars, the media company — later acquired by Bell in 2013 — agreed to install $202 million worth of street furniture, including new on-street litter bins. The deal was signed to last 20 years, from 2007 to 2027.
As part of the deal, city hall also got a percentage of advertising revenue, with a guaranteed minimum of $428 million over the life of the agreement. Astral also accepted responsibility for maintaining the garbage bins, transit shelters, information pillars, bike corrals, newspaper boxes, and public washrooms.
The city began the rollout of a planned 11,908 new waste receptacles and other street furniture on Sept. 1, 2007. The first attempt was the grey plastic model mentioned above — a bulbous design with flaps over the holes operated, at least theoretically, by a foot pedal. But the pedals proved easily breakable — some bins were eventually modified to permanently disable them — and the flaps mostly just got in the way.
A new, simplified design began rolling out in 2016, with black metal in place of the plastic, no flaps and no foot pedal. But the rollout hasn't exactly been lightning-quick — or affordable. Business Improvement Areas that wanted to swap their plastic bins with the new metal options were quoted $165 per bin. (When the Yonge & St Clair BIA inquired about replacing their bins in 2019, they were also told — in addition to the cost — that completing the swap would take at least two years.)
Meanwhile, both types of bins have continued to attract a lot of scorn — and a lot of 311 complaints.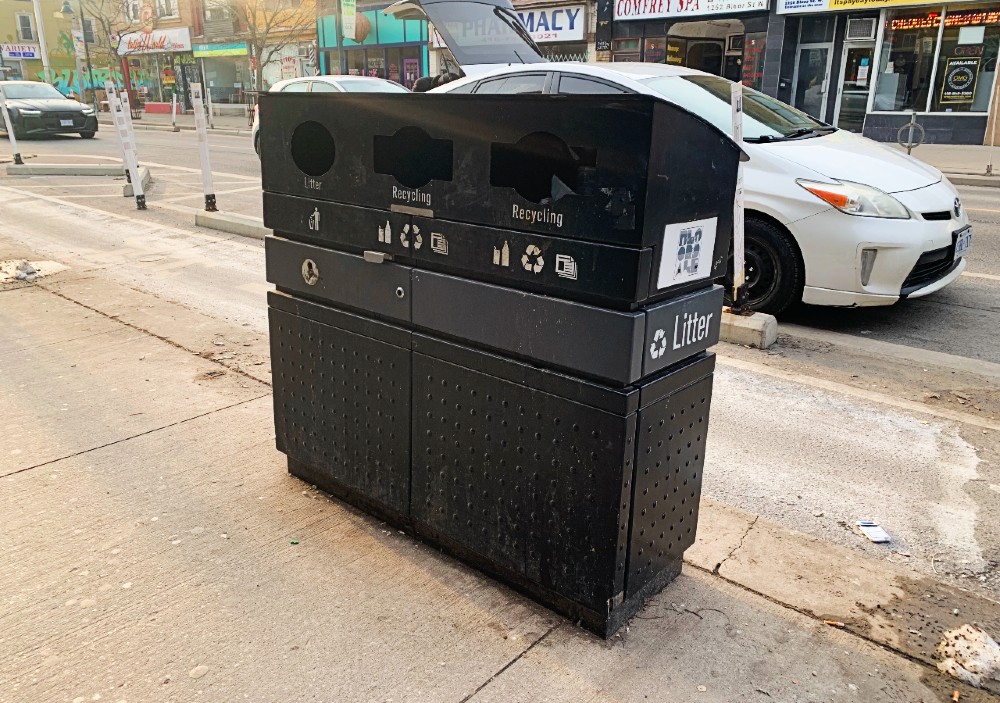 Today's tale of the trash
As of the last update in November 2022, Toronto was listing an inventory of 10,419 Astral litter bins across the city. But 9.4 per cent of the bins — 978 in total — weren't in service at the time, with a status listed as "temporarily removed."
The percentage of bins removed from their locations varies greatly by ward, with some wards seeing much higher percentages of removed bins than others.
As of November, the ward with the most bins out of service was Ward 10 Spadina-Fort York — home to much of the city's waterfront tourist destination — where 128 of the 696 litter bins were listed as temporarily removed. That's 18.4 per cent, or close to one out of every five.
A city spokesperson confirmed via email that bins generally get temporarily removed for two main reasons: nearby construction or repair of the bin.
"Typically the City has five to ten per cent of assets temporarily removed on a rotational basis," wrote Ashika Theyyil of Toronto's Media Relations division. "This is due to construction projects that are always ongoing throughout the city, which in turn requires the removal of street furniture to accommodate construction requirements. As some construction projects come to a close, new ones begin, meaning new sets of furniture removals are required as other furniture is reinstalled. Add in the ongoing maintenance and repair issues that also require additional removals."
Whatever the reason for removal — the city doesn't break out how many bins have been removed for construction versus those removed for repair — a higher rate of bins out of service shows some correlation to the number of 311 complaints related to litter and garbage.
The three wards with the most complaints lodged in 2022 — Spadina-Fort York, Toronto Centre, and University-Rosedale — all had "temporarily removed" percentages north of 10 per cent as of the city's last update.
The wait for better waste disposal
The end of the Astral contract in 2027 is finally approaching. But despite city hall's clear frustrations with elements of the program, their next step isn't immediately clear.
The street furniture program, even with all the broken garbage bins, is a real money saver for city hall, with a private company assuming all upfront and ongoing costs, while also paying the city a guaranteed amount of advertising revenue in the process. Without it, the city could have been on the hook for more than $200 million in costs and could have missed out on about $22 million in guaranteed annual revenue.
Given the city's budget crunch, it could be a struggle for the municipal government in 2027 to afford the cost of a program that gives them more direct control over the design and upkeep of its street furniture.
Even factoring in two decades of broken bins and smelly sidewalks, a similar deal to the Astral arrangement could start to look really appealing, especially if the mayor and city council remain committed to keeping residential property taxes low.
Another concern: Per the terms of the 2007 agreement, unless the City and Astral strike some kind of extension on the deal, in 2027 city hall is set to assume ownership and responsibility for maintaining all of the street furniture produced by the program, including the litter bins. It could lead to the tough question of what to do with more than 10,000 trash bins that look like trash.
Code and markup by Chris Dinn. ©Torontoverse, 2023