Five bars and cafés in Toronto theatres worth a visit on their own
From Theatre Centre to Comedy Bar Danforth, here are five great places to hang out before a show. Or any other time.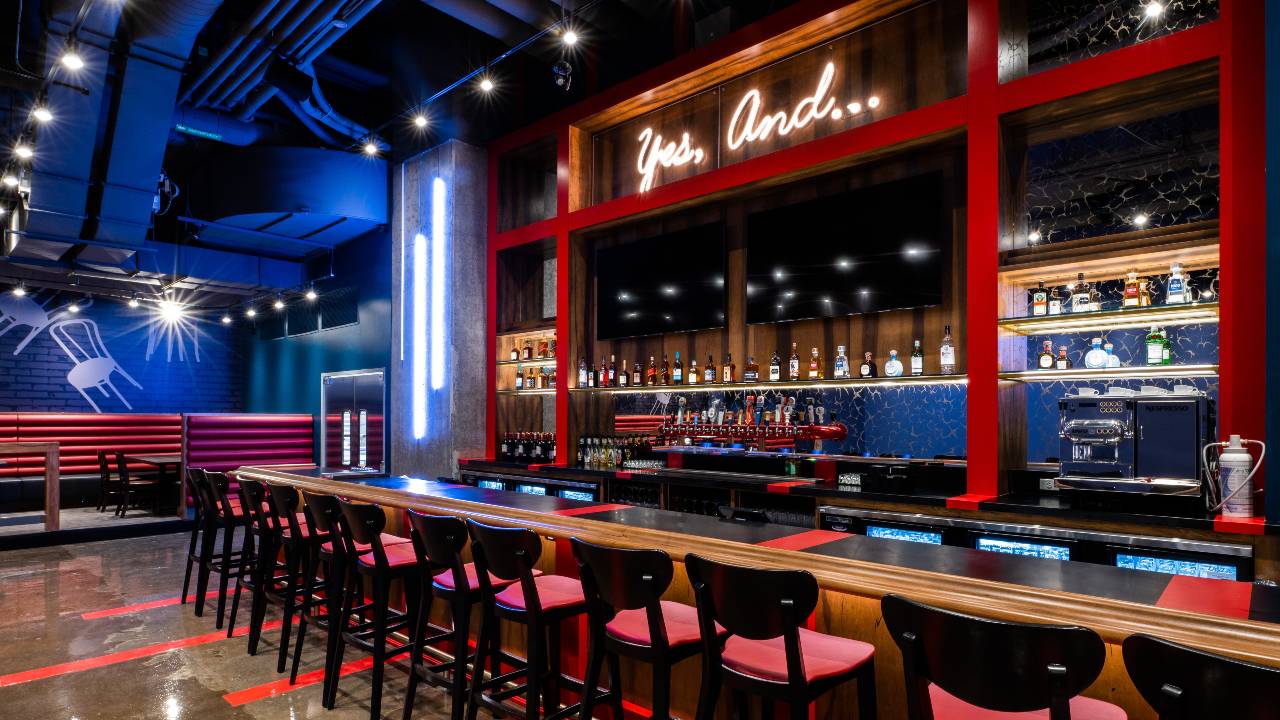 Until recently, Toronto's theatre lobbies were pretty dry places. Before the show or during intermission, you could purchase a coffee or tea, then serve yourself from one of those oversized carafes. Maybe there'd be some beer, wine, soft drinks, and snacks on sale at a little booth.
But a number of venues have definitely upped their bar and café games, perhaps realizing that, these days, theatre consists of much more than seeing a show then leaving. Why not stay and talk about what you've seen with friends or even the artists themselves?
Some theatre lobbies have become so inviting that you don't even have to see a show to want to be there, but it's nice to know that you can if you want.
Here are five worth checking out.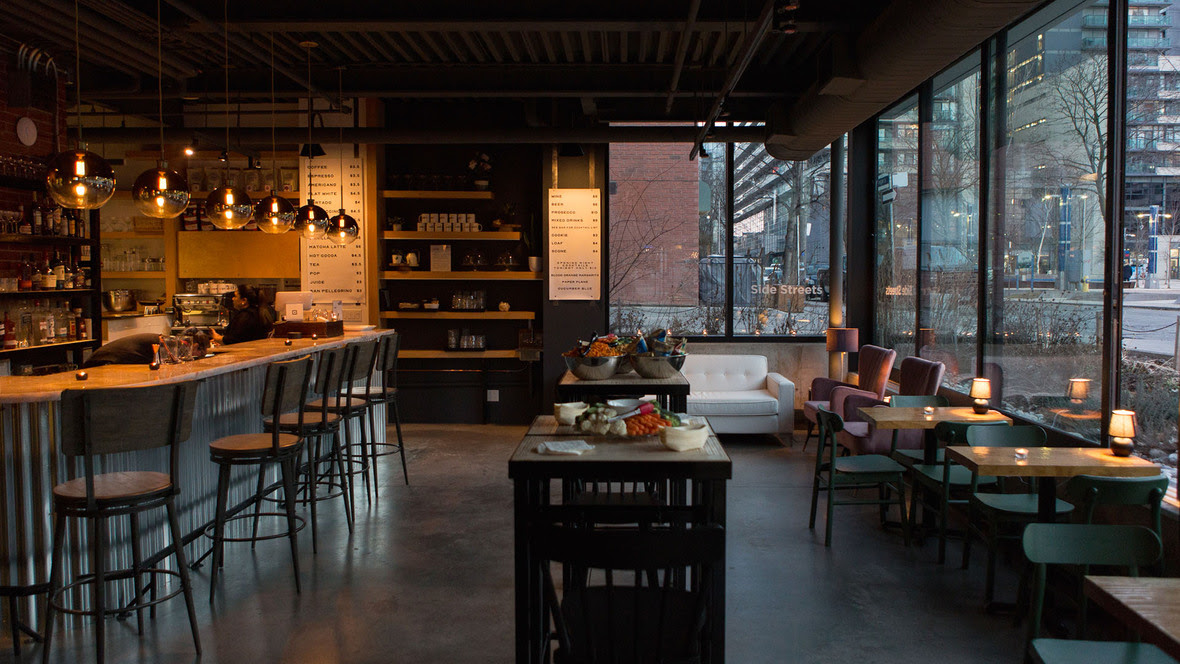 Theatre Centre
Address: 1115 Queen St. W.
This West Queen West theatre unveiled its renovated bar and café area earlier this year, and the changes are terrific. Check out the new, longer marble bar countertop, polished corrugated sheeting underneath, bar stools, elegant light fixtures, and a fuller-stocked bar, complete with fancy stemware (if you're seeing a show you can transfer the drink to an unbreakable cup).
In addition, there are many little tables to work at from morning 'til night. You can take advantage of the electrical outlets and free wifi, and you won't get nasty stares if you don't order a thing. That said, with the recent hiring of baker-in-residence Akash Swar, you'll want to sample a muffin or scone while you sip a lattw (all reasonably priced), content not to be at a neighbouring chain café.
While you're there, check out the selection of second-hand books to browse and borrow — which I always peruse when killing time before a show.
Hours: From 8:00 a.m. until 5:00 or 6:00-ish during the week (from 9:00 a.m. on weekends), unless there's a show on, in which case it'll be open much later.
Who you might see: Anyone from the indie theatre, dance, or comedy scenes, plus lots of folks from the neighbouring condos during the day.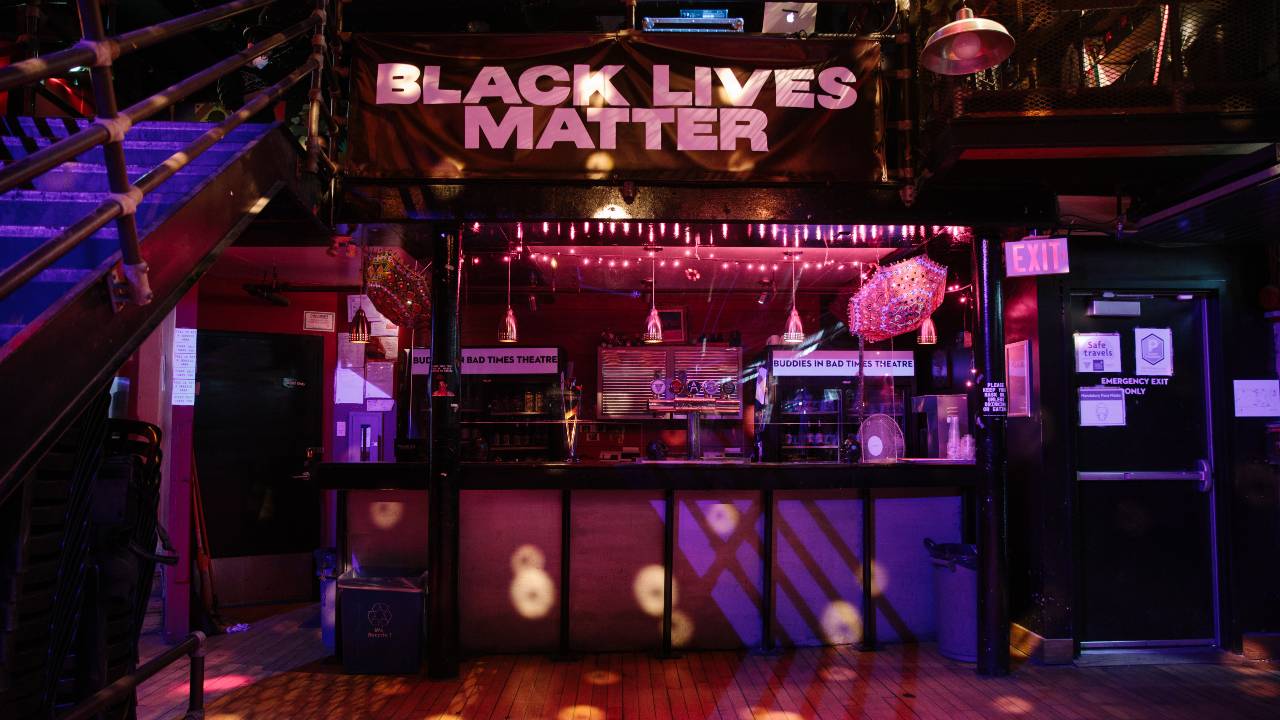 Buddies in Bad Times Theatre
Address: 12 Alexander St.
The vibe of this place is a little "dive bar in New York's East Village," and Buddies regulars wouldn't want it any other way. You won't find any fancy cocktails here, but beer, wine, soft drinks, and mixed drinks? Absolutely. Their claim that their drinks are the cheapest in the Village pans out — $6 or $7 for a glass of wine is a bargain. And don't forget the signature "Buddies beer" on tap.
Because of the placement of the bar at the back of Tallulah's Cabaret — far from the usual performing area — you might be able to discreetly order things throughout a show, especially if it's a cabaret-type performance.
Things can get crowded around the serving area during intermissions, which ups the flirting factor. During the pandemic, Buddies reno'd its second bar area in the Ante Chamber, often open if there's a show in the larger Chamber, making it more accessible.
Hours: On show nights, 30 to 60 minutes before curtain. On the weekend it hosts club nights from 10:30 p.m. onwards.
Who you might see: Besides its theatre and comedy programming, the venue hosts lots of community and activist events. They even taped the TV series Drag Heals there. Just don't expect any CPC fundraisers.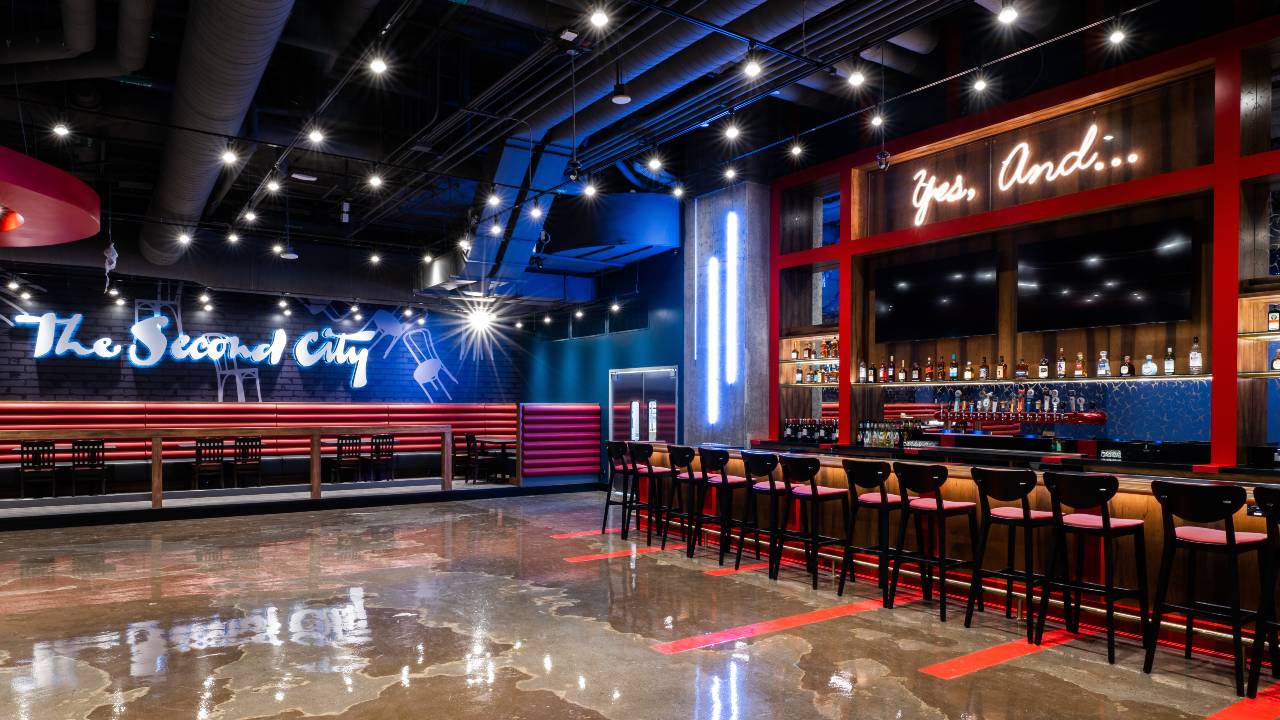 Second City
Address: 1 York St.
Unless you've been to Second City's new home at One York, you probably don't know that besides housing three state-of-the-art theatres and nine training studios, it's also home to three working bars and includes a restaurant with food by Oliver & Bonacini. In other words, you can do drinks, dinner, and a show (or any combination of the three) in one spot.
Located on the third floor of a condo/retail complex (it's a little hard to find at first), the venue takes up a massive 28,700 square feet. The north bar area contains lots of seating areas and nooks; without windows, it kinda resembles a reality TV show lounge.
The south bar area has lots of tables and a bank of windows to enjoy the view. You can order food and drinks at the well-stocked bar for any section.
While the venue is shiny and new (it was constructed during the height of the pandemic, so the HVAC system is state-of-the-art), there are also bits of Second City history scattered throughout the building. This includes some flooring from the company's original home at the Old Firehall on Lombard St. (walk on the same stage as Gilda Radner and Mike Myers), and iconic signage from its third home on Mercer St.
Hours: There are shows happening nightly, so bar and food service should be available from early evening onwards.
Who you might see: Mainstage and touring company cast members. And since this is Second City Toronto's 50th anniversary year, don't be surprised if some famous alumni show up to tell tales around the bar.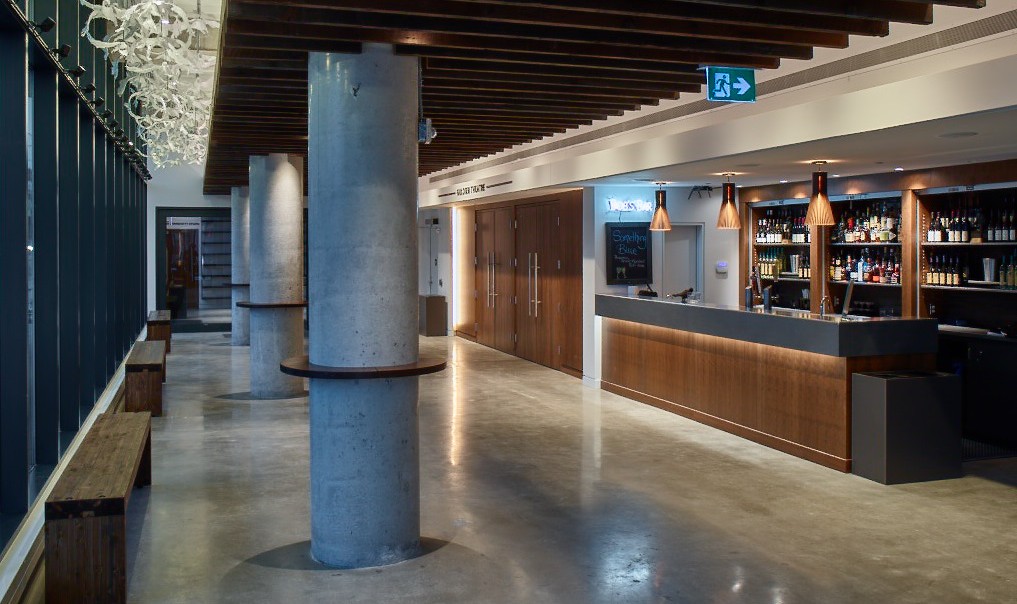 Streetcar Crowsnest
Address: 345 Carlaw Ave.
Reminiscent of theatre bars in Europe, the Streetcar Crowsnest's Lobby Bar makes you feel comfortable enough for pre- and post-show hanging out. The floor-to-ceiling windows ensure plenty of light and people-watching potential, and during the warmer months they open up a patio to enjoy your drinks al fresco.
Several bistro tables and benches accommodate seating, and if it gets really crowded (like 15 minutes before a show or at intermission), there are handy trays attached to concrete columns to support your bevvy.
The bar, which casually displays two Dora Awards won by Crow's artistic director Chris Abraham, is stocked with lots of locally made product — including neighbouring Eastbound Brewery Lager on tap. And mixologist/bartender Ted Hallett creates a signature cocktail for every show. For the recent remount of Torquill Campbell's show True Crime, for instance, the special drink was the "Vodka Crimeberry."
Other pluses? Gare de L'Est next door offers a prix fixe menu to get you to the show on time (they even have a sliding door so you don't have to step outside), and sometimes on the weekends there will be late-night entertainment in the lobby, encouraging you to stay even longer.
Hours: Before and after shows.
Who you might see: A who's who of Toronto's theatre scene shows up here regularly to either perform onstage or support their friends. And back in 2019, when indie rockers STARS put on a show, they made the venue just a bit cooler than usual.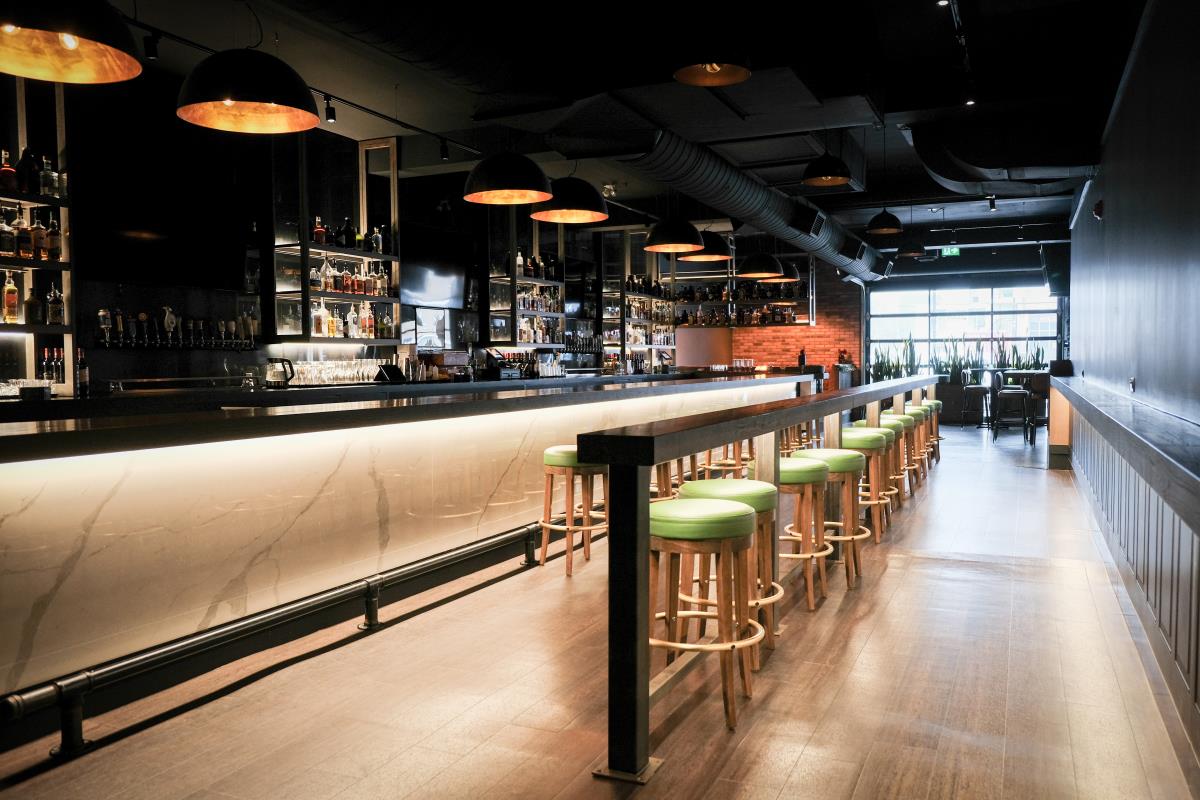 Comedy Bar Danforth
Address: 2800 Danforth Ave.
Like its sibling location near Bloor and Ossington, this east-end comedy spot is destined to become a place where comics and comedy fans converge to see shows and, more importantly, just hang out. That said, there's not as much competition in the Dawes/Danforth neighbourhood, so the completely renovated and retrofitted space — featuring two theatres, a huge bar that runs pretty much the length of the venue, and lots of tables, including a deluxe corner area — stands out.
You can order from the full kitchen in the dining area or in the theatres, and the bar includes draught beer, cocktails, and non-alcoholic options.
Way more spacious than the west-end locale (it's also above-ground, which is nice), the venue features a roll-up-window section that, in the summer, lets in some fresh air. And it's fully accessible. All of that is nothing to laugh at.
Hours: Shows happen about six days a week, with the bar and dining area open approximately 90 minutes before show times.
Who you might see: Acts range all over the comedy map — stand-up, improv, sketch — and include everyone from up-and-comers to superstars like Chris Gethard (May 26 and 27) and Hari Kondabolu (June 29).
Code and markup by Kyle Duncan. ©Torontoverse, 2023